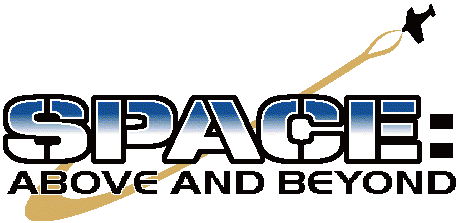 RiverRat's Space: Above and Beyond Page
| | |
| --- | --- |
| | Please forgive my growing pains ... like the rest of my website, this page is perpetually under construction. For now, I'm concentrating on one of my hobbies, creative writing. Right now, I'm writing fan fiction (FANFIC for short) concerning the 1995-96 Fox Network series Space: Above and Beyond. This was a very good show, but for some silly reason they saw fit to cancel it after only one season. |
---
Space: Above and Beyond pages on this site:
S:AAB search engine
Do you Hooyah? The New SPACE: Above And Beyond Search Engine!
Matt McCarthy


The Space: Above and Beyond
RPG Center
Play-by-email role-playing in the S:AAB universe

Space Ready Reserve
Website of the Space: Above and Beyond fan club, the 59th is a major organization of S:AAB fandom online, providing a presence at science fiction conventions, and a source for series related merchandise.

Mission Status

To find out more about S:AAB, follow this link to Pat "Wu" Moss' Mission Status website. The former home of the 59th Ready Reserves, this still is a great site--it has everything you could possibly want to know about the series. As of this writing, March 5, 2000, access to this site has been spotty, but to the best of my knowledge, it is still available although no longer being updated.

Sign up here to let other S:AAB fans know how to contact you and where to find your home page! There's room to comment, so let everyone know your favorite character or episode, make suggestions for this site, or just say hello.

Search this site
Click here to see my husband Steve's variation of the Wild Cards patch. I think he has done some really really cool things with it. Be warned, this is a large file (122 K) and it can take up to a minute to load, depending on your modem, and Internet conditions.
11/24/97 -- Click this link to see Steve's raytracing of the Angry Angels patch. I put this one up as my wallpaper as soon as I saw it! (29K)
---
This webring is made possible by WebRing
---
NAVIGATION